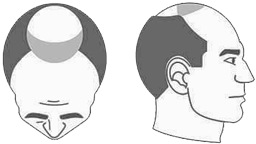 Norwood stage 5A

In stage 5A, the hairline continues to progress toward the back of the head.

Patient gender Male Patient sessions 2 Patient surgery type Trplt Patient grafts 4418

This hair transplant video features one of Dr. Ron Shapiro's patients on video. Watch this video to view this patient's impressive hair transplant results and to hear what he has to say about his hair loss, his hair transplant procedure, his results and his overall experience.