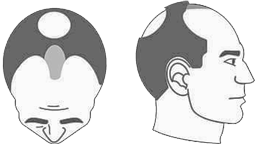 Norwood class 4

Characterized by further frontal hair loss and enlargement of vertex, but there is still a solid band of hair across the top (mid-scalp) separating front and vertex.

Patient gender Male Patient sessions 1 Patient surgery type Trplt Patient grafts 2420

This hair restoration video features Dr. Ron Shapiro's hair transplant surgery result of 2420 grafts / 4955 hairs. This patient had hair loss to his crown and minor loss to his hairline. The main goal of his procedure was to fill in the crown and reinforce his hairline. Before and after pictures in this video show his result 9 months after his procedure. This patient should see some additional growth and thickening to come over the next 3 to 9 months.