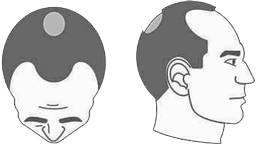 Norwood stage 3 Vertex

In terms of the receding hairline, stage 3 vertex balding is a less drastic version of stage 3.
However, people experiencing stage 3 vertex balding will also begin losing hair on the crown of their head. This often starts as one small bald spot.

Patient gender Male Patient sessions 1 Patient surgery type Trplt Patient grafts 2906

This Dr. Ron Shapiro hair transplant patient received a total of 2906 grafts and 5974 hairs in a single session. This patient had hair loss to his hairline and crown. The main goal of his procedure was to reinforce his hairline by adding density and reestablishing his temporal corners. He also lowered his hairline slightly and used some grafts for the crown. Before and after pictures show his result 1 year after his procedure.