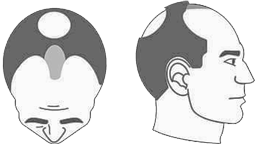 Norwood class 4

Characterized by further frontal hair loss and enlargement of vertex, but there is still a solid band of hair across the top (mid-scalp) separating front and vertex.

Patient gender Male Patient sessions 2 Patient surgery type Trplt Patient grafts 4869

This video features Dr. Ron Shapiro's hair transplant surgery result after 2 procedures totaling - 4869 grafts / 10,237 hairs. This hair loss patient had extensive loss throughout his top and crown along with thinning hair. The main goal of his 1st procedure was to add density throughout. The goal of his 2nd procedure was to focus density on his frontal third and address his balding crown.