Procedure detail
This is an FUT hair transplant result 9 months postoperative. Technically another 3 - 6
months for full cosmetic development. 2811 follicular units were transplanted
for temporal, frontal, top/crown coverage. 769 singles, 1675 doubles, 367
threes. What you see in this case is a major transition not only in density but
in the quality of the hair - what was once miniaturized, unhealthy follicles now
have been enhanced / replaced with permanent, growing healthy hairs.
Bald class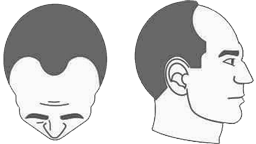 Norwood class 3
The earliest stage of male hair loss. It is characterized by a deepening temporal recession.