Procedure detail
This hair restoration paitent in his mid-20s was experiencing erosion of the
hairline/temple region.
Dr.
True performed an initial treatment a year ago consisting of 1605 grafts / 2819
hairs.
485 singles, 1026
doubles, 94 threes. Trichopytic closure.
Bald class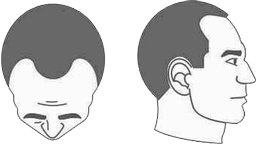 Norwood stage 2
There is a slight recession of the hairline around the temples. This is also known as an adult or mature hairline.