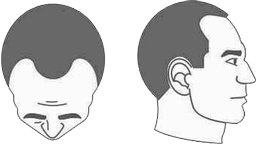 Norwood stage 2

There is a slight recession of the hairline around the temples. This is also known as an adult or mature hairline.

Patient sessions 1 Patient surgery type Trplt Patient grafts 885

This female hair restoration patient came to Dr. Dorin to rebuild what had become a very fragile and thin frontal hairline. Dr. Dorin strategically placed 885 grafts to restore density and contour to her hairline using a combination of 366 singles, 496 doubles, and 33 three hair follicular units.