Procedure detail
This 37 year old patient presented with a request for frontal hairline restoration. He requested an FUE harvest in order to maintain the ability to wear short hairstyles in the future. A 2092 graft frontal hairline restoration was performed using an FUE harvest. Presented is his seventeen month postop result. Perioperative graft placement photos, along with preop and seventeen month donor site photos are presented. Density inspection photos show the coverage that was obtained in the graft zone.
Bald class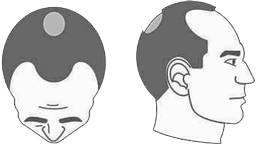 Norwood stage 3 Vertex
In terms of the receding hairline, stage 3 vertex balding is a less drastic version of stage 3.
However, people experiencing stage 3 vertex balding will also begin losing hair on the crown of their head. This often starts as one small bald spot.