Procedure detail
This is a 34-year old patient with a history of undergoing a frontal hairline flap using tissue expansion of the left donor region.  He presented to my office with complaints of an abrupt hairline, a frontal hairline scar, an unsightly left-side donor scar, and thinning in the midscalp and crown regions.  His primary goals were: 1) create a more natural hairline; 2) camouflage scars along the hairline and in the donor area; and 3) enhance hair density in the midscalp and crown.
His physical examination revealed:
1.       An overly-thick frontal hairline flap with backward-oriented hair. 
2.       A disfiguring, hypopigmented scar that traversed the entire length of the hairline. 
3.       A prominent 1 cm scar in the left and back donor areas that traversed the path of the previously transposed hairline flap. 
4.       Significant density reduction in the temple region surrounding the transposition point of the flap. 
5.       Advanced miniaturization in the midscalp and crown.
6.       A clinically apparent scar along the back edge of the flap.
7.       Disproportionate thinning in the lower left crown which had resulted from this edge being displaced downward during closure of the flap's donor defect.   
Surgical Plan: The entire left donor area and left occipital region were eliminated from consideration for donor harvesting because of severely limited elasticity and density reduction that resulted from removal of the flap and because of the preexisting wide scar.  In anticipation of a large graft requirement to accomplish the many goals at hand, a multi-stage approach was developed that would begin with strip harvesting and later convert to future FUE harvesting once the donor region elasticity threshold had been fully utilized to preclude any additional strip harvesting.  The right temple and occipital donor regions demonstrated sufficient density and elasticity to allow strip harvesting for the initial stages of this restoration.
Result: Presented here is the result of two graft sessions that were staged seven months apart and utilized a total of 3,685 grafts procured via strip harvesting.  Session 1 consisted of 2292 grafts, distributed into the frontal hairline scar region, the occipital scar, and the midscalp region.  Session 2 consisted of 1393 grafts that were distributed into the crown, a gap located between the right end of the flap and the adjacent temporal hair, the right hairline scar, and a thinning left-side donor area surrounding the flap's transposition point.  Postoperative photos demonstrate results nine-months following the second session.  Additional density gains are expected
Bald class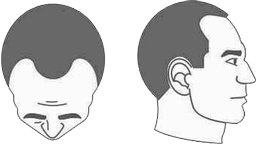 Norwood stage 2
There is a slight recession of the hairline around the temples. This is also known as an adult or mature hairline.