Procedure detail
A 24 year old sailor had a hair transplant surgery done for Class V Androgenetic Alopecia before he set off sailing 6 months ago. He was delighted with the early response.
3453 FUG grafts were transplanted using the strip technique. It is not unusual to see good hair growth as early as 6 months, but it is better to wait for 10 months to one year to see the actual outcome of the procedure. An update will be provided at the end of one complete year.
One hair grafts = 900
Two hair grafts = 2523
Three hair grafts = 30
Total number of grafts = 3453
Total number of grafts = 5136
Bald class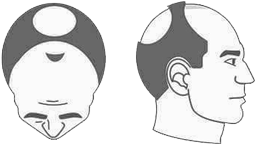 Norwood stage 5
Occurs when the connecting bridge of hair disappears leaving a single large bald area on the front and top of the scalp. The hair on the sides of the scalp remains relatively high.