Procedure detail
A 24 yr old Asian male requested to dense pack the fronto temporal angles and fill in the crown adequately. He was informed about the fact that he would need subsequent procedures to fill more loss in future as Androgenetic Alopecia is progressive. He was advised to take oral Finasteride for maintaining the existing hair in an attempt to post pone the patterned loss.
3435 FUGs were harvested out of which 1150 FUGs were used for the crown area. Dense packing and a good number of three hair grafts helped achieve a fuller appearance. The pictures were taken three years after the procedure. 
One hair grafts = 690
Two hair grafts = 2510
Three hair grafts = 235
Total number of grafts = 3435
Total number of hair = 6330 
Bald class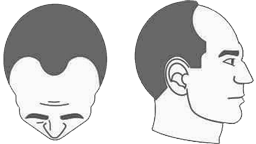 Norwood class 3
The earliest stage of male hair loss. It is characterized by a deepening temporal recession.