Procedure detail
A 26 year old University student was extremely distressed with Male Pattern Hair
Loss. He opted to do hair transplant surgery at our clinic.
Follicular Unit
Transplantation was performed using the strip method. 2870 FUG were added to
fill in the frontal area extending into mid scalp. The crown was beginning to
thin. Patient requested to add 50 grafts to the thinning area. Patient was happy
at the end of nine months and grateful for the change that had boosted his
morale.
one hair grafts - 739
two hair grafts - 2070
three hair
grafts - 61
Total number of grafts = 2870
Total number of hair 5062
follicles.
Bald class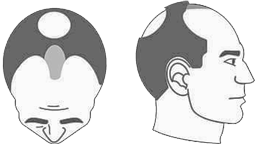 Norwood class 4
Characterized by further frontal hair loss and enlargement of vertex, but there is still a solid band of hair across the top (mid-scalp) separating front and vertex.