Procedure detail
Mr. Singh, a Senior professional from the hospitality industry was referred to us by his friend who is the Ex-Davis Cup Captain of India, indeed he was also one of our @eugenixhairsciences patients who became a dear friend after his great results and keeps sending his friends to us. The index patient was 43 years old and had a big forehead along with loss of temples which were giving him a very bald look. He had left with a little bit of hair on the mid-scalp, otherwise he had lost complete hair on the front and crown. We planned his frontal area and temple and tried to cover as much as possible over two days. We did 7100 grafts (5000: scalp; 2100: beard). His planted hair started showing up after 3 months as usual for all of our patients (because of our Direct Hair Transplantation concept, wherein we extract and simultaneously plant the grafts which leads to less post transplant telogen effluvium and we get a fair amount of direct growth of the planted hair.) By one year the temple points were looking extremely natural and the hairline was impeccable in naturalness. He started sending his friends from all across. And we earned a friend in him forever.
#hairtransplant#hairrestoration#hairtransplantsurgeon
#eugenixhairsciences#hairtransplantreviews#hairrestorationsurgeon
#hairtransplantation#hairtransplantnetwork#thehairtransplantnetwork
Bald class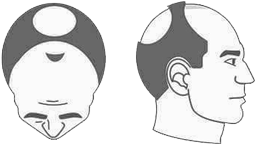 Norwood stage 5
Occurs when the connecting bridge of hair disappears leaving a single large bald area on the front and top of the scalp. The hair on the sides of the scalp remains relatively high.