Procedure detail
Mr. Ram was very conscious about his hair loss and he used to keep the hair on the side of his head longer and used to cover the balding area with it. He had curlier side of hair and the donor density was very good and he wanted to cover the total area in one go. With our @eugenixhairsciences rich experience of BHT, we took up the case and judiciously kept the hairline at the optimum point (not too hight neither too low) keeping in mind the ultimate coverage of his total bald area. 
Breakup of the grafts:
Scalp: 4000 (Singles: 530, rest were multiples)
Beard: 3000
Since he had curlier side of scalp hair, his beard hair blended well with the transplanted scalp hair. We provided the graded density from front to crown keeping in mind that the front is the aesthetic importance to the person. After 9 months most of his hair were grown and the crown was as expected, had a little lower density in comparison to the front. And his scalp donor is still adequate to be harvested again to do the crown.
#hairtransplant #hairrestoration #hairtransplantsurgeon 
#eugenixhairsciences #hairtransplantreviews #hairrestorationsurgeon 
#hairtransplantation #hairtransplantnetwork
Bald class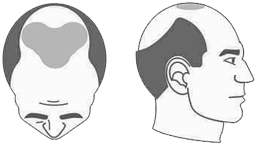 Norwood stage 6
The balding areas at the temples join with the balding area at the vertex. The band of hair across the top of the head is gone or sparse.