Procedure detail
This patient was a Grade VI bald case and he desired to have a full coverage of his scalp. We gave him a total of 5604 grafts and covered his entire bald area. 4202 grafts were taken from his scalp and 1402 grafts were taken from his beard. The results presented to you are after 7 months of the transplantation procedure.
Breakdown of the grafts:
Scalp: 4202 (singles: 315, rest were doubles, triples and quadruples)
Beard: 1402 (singles: 1350, doubles: 52, the angle of mandible contains double follicle grafts in few patients where the beard is dense and extensive. These are the cases where the chances of future baldness in the scalp is more because a great beard is inversely related to baldness.)
Direct Hair Transplantation (DHT), is a modified FUE wherein we try to extract and plant grafts simultaneously. This we started in 2012 and published the scientific paper in Journal of Cutaneous and Aesthetic Science (JCAS) in 2013. This is the link of the original scientific publication:
 https://www.ncbi.nlm.nih.gov/pmc/articles/PMC3764754/
Since most of the grafts enter into the body within few minutes of extraction, the chances of damage by infection, dessication, mechanical handling and other factors gets reduced to minimum. We have also introduced dull needle implantation which ensures near to zero handling of the grafts during plantation. So, the combination of least mechanical handling and near real time simultaneous plantation of the grafts ensures an early growth of our grafts, as early as by 5 months we get a great growth. Astonishingly in some of the cases more than 60% to 80% hair grow directly after transplantation without entering into the known Telogen Effluvium phase of shedding. It took us few years to master the above technique of transplantation and we have now documented each and every step of our procedure and published a book "Step by Step Hair Transplantation" which has been revered by most of the updated hair restoration surgeons all across the world. Some of our studies have revealed that we get close to 98% of growth by end of 10 months due to minimalistic chance of damage. 
Bald class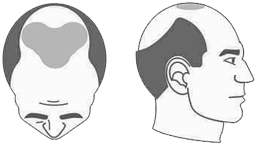 Norwood stage 6
The balding areas at the temples join with the balding area at the vertex. The band of hair across the top of the head is gone or sparse.