Procedure detail
He is 26-year-old manNorwood class- V
Hair loss progression- Stable
Hair thickness- Medium
Hair/ Skin contrast- Medium Contrast 
Donor density- +70 FU/cm² 
Surgical goals- 1st Session – Frontal restoration, mid-scalp restoration, temple restoration with maximizing coverage
Total FU  grafts implanted- 3115
Singles- 320 
Hairs per graft average- 2.3
Extraction method- 0.95 mm serrounded Cole punch
Placing method-  Dull Needle  implanter in premade slits
Post-op treatment- Oral antibiotics and pain killer for 7 days. Tab Finasteride 1mg one tab daily along with minoxidil 5% lotion 1ml twice daily after 3 weeks.
Bald class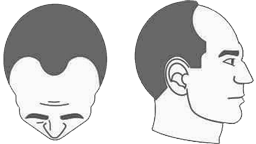 Norwood class 3
The earliest stage of male hair loss. It is characterized by a deepening temporal recession.