Procedure detail
The index patient was 39 years old.
His details are:
 
Hairline augmentation required
Grafts done: 2500
Donor site: scalp donor
Donor quality: Good
Hair calibre: Good
Package opted for: Exclusive package with Dr. Pradeep Sethi
Extraction done by: Dr. Priyadarshini Das
Bald class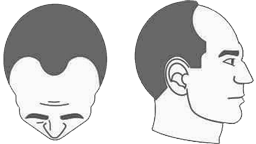 Norwood class 3
The earliest stage of male hair loss. It is characterized by a deepening temporal recession.