Procedure detail
This thirty-year-old patient came to see Dr. Patrick Mwamba at MyWHTC clinic in Belgium (Europe) where the frontal scalp was treated with 2800 FUT grafts in one session. The patient has medium-fine, dark brown hair and light fair skin with slightly above average donor density. The frontotemporal regions and hairline were created based on the patient's unique needs. The patient's top priority was to frame and balance the face for improved public appearance. Prior to undergoing the procedure, the patient committed to finasteride, minoxidil, and vitamins with biotin. Below are the eleven-month results photos. 
Consider that donor density and hair characteristics will dictate your ability to achieve hair restoration goals. The examination of the donor and recipient areas will also affect how cautiously an individual should approach surgical hair restoration. Those who suffer from hair loss can usually expect to experience more hair loss even after more than one sessions of grafting. The most important information that an individual in pursuit of hair transplantation can be made aware of is just how uncommon it is to effectively treat this problem by one single surgical procedure.
Bald class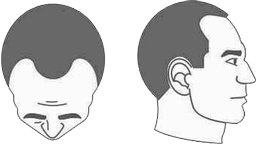 Norwood stage 2
There is a slight recession of the hairline around the temples. This is also known as an adult or mature hairline.