Procedure detail
This client had 5,110 hair grafts transplanted from the frontal to the back during 1 year follow up with Dr. Diep. This client was a Norwood 6.
 5,110 Hair Grafts Break Down:
One Hair Roots: 834 grafts
Two Hair Roots: 2,627 grafts
Three Hair Roots: 1,006 grafts
Four Hair Roots: 643 grafts
Total Hair Roots: 5,110 hair grafts
Bald class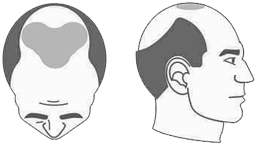 Norwood stage 6
The balding areas at the temples join with the balding area at the vertex. The band of hair across the top of the head is gone or sparse.