Procedure detail
Manual FUE hair transplant surgery of 2,540 hair grafts result on Norwood 3/4 hair loss pattern mostly frontal balding by Dr. Diep.
Grafts Count Breakdown of 2,540 hair roots:
One hair roots = 643 grafts
Two hair roots = 1,308 grafts
Three hair roots = 476 grafts
Four hair roots = 113 grafts
Total hair roots = 2,540 grafts  
Bald class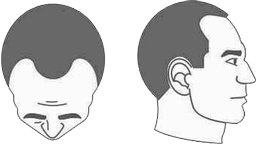 Norwood stage 2
There is a slight recession of the hairline around the temples. This is also known as an adult or mature hairline.