Procedure detail
FUE hair transplant surgery result after 3,235 hair grafts transplanted into the frontal area by Dr. Diep. 
Hair Grafts Break Down:
One Hair Grafts: 531 roots
Two hair grafts: 1,780 roots
Three hair grafts: 596 roots
Four hair grafts: 328 roots
Total hair grafts: 3,235 roots
Bald class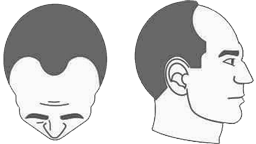 Norwood class 3
The earliest stage of male hair loss. It is characterized by a deepening temporal recession.