Procedure detail
This patient came to Vancouver from Israel to have a procedure following in the footsteps of his son who had previously undergone a successful procedure with Dr. Wong a few years earlier. Dr. Wong and team transplanted 5496 Grafts in one session via FUT.  1562 were single hair grafts, 3317 were double and 617 were 3-4 hair grafts. The goal was to reconstruct the hairline, frontal zone and mid-scalp working back as far as possible. With a sufficient yield, some crown coverage would be possible and in this case, it was achieved. The result shown is only 7.5 months post-op.
This patient is very happy and a strong advocate for the clinic. If you are in Israel and considering a hair transplant procedure with Hasson and Wong and would like to speak with this patient about his experience, get in touch with me and we'll connect you.
Bald class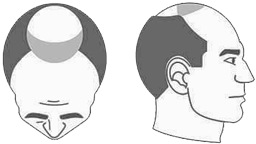 Norwood stage 5A
In stage 5A, the hairline continues to progress toward the back of the head.