Procedure detail
✓ 36 years old (in 2017), losing hair since the age of 25, with a hair loss history in his family (uncle, father, brother).
✓ No medications.
✓ Thin caliber hair.
✓ Normal follicular units.
✓ High % of hair in telogen phase.
Bald class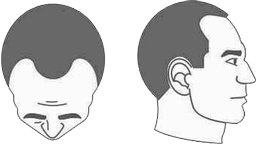 Norwood stage 2
There is a slight recession of the hairline around the temples. This is also known as an adult or mature hairline.