Procedure detail
PATIENT'S DETAILS
✓ 31 years old, NW IVa, losing hair since the age of 24. Hair loss stabilized since two years. No available data about his family hair loss history. 
✓ Started taking Finasteride 1mg after the surgery. Treatment currently suspended.
✓ Medium caliber hair.
✓ Normal follicular units.
✓ High % of hair in telogen phase.
Bald class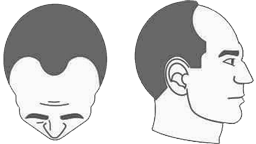 Norwood class 3
The earliest stage of male hair loss. It is characterized by a deepening temporal recession.