Procedure detail
Here we have a 56 year old patient who had thinning throughout his frontal zones. This included some miniaturised hairs. He chose the FUT method and Dr Rahal restored the area for a dramatic improvement.
Surgery Type: FUT
Recipient Area Treated - 63cm
Total Grafts - 3025
Total Hairs - 6329
Recipient Graft Density - 48 grafts/cm
Recipient Hair Density - 100.5 hairs/cm
Graft Breakdown:
Single Hairs - 557 grafts
Two Hairs - 1932 grafts
Three Hairs - 836 grafts
Four Hairs - 0 grafts
Average Hairs Per Graft - 2.09
Bald class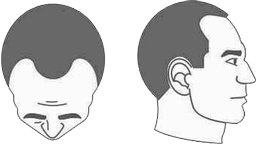 Norwood stage 2
There is a slight recession of the hairline around the temples. This is also known as an adult or mature hairline.