Procedure detail
This 41 year old patient came to see me with concerns of a receding hairline and balding in the crown region.
As the patient would like to retain the ability to keep his hair short, we agreed the FUE method was best for him and successfully transplanted 2208 grafts to both areas of concern. I also recommended he begin taking Finasteride and using low level laser light to prevent further loss to the crown and mid-scalp.
Patient returned to clinic 1 year after the procedure and is very pleased with results. At his one year follow up patient said " I feel like a new person". This is exactly what a hair restoration surgeon wants to hear. Patient may consider a second procedure in the future to add density to the crown.
Bald class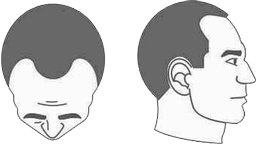 Norwood stage 2
There is a slight recession of the hairline around the temples. This is also known as an adult or mature hairline.