Procedure detail
Patient Details
Level of Alopecia: NW III
Surgical Plan: Hairline reconstruction, frontal density increase in the frontal area. Due to the young age of the patient, Finasteride and minoxidil treatment was recommended to improve the mid scalp and crown area which proved to be the right approach to safe a very good number of follicular units for the future.
Hair Thickness: 51-55 microns.
Hair Type: caucasian patient, blonde hair, hair thickness slightly below average.
Number of Grafts Implanted: 2575
Donor Area Graft Density: 73 grafts/cm2
0.8mm manual and motorised punch was used for the extraction.

Graft Breakdown
1s: 732
2s: 978
3s: 615
4s: 250
Overall hairs implanted: 5553
Overall hair/graft ratio: 2,15
Bald class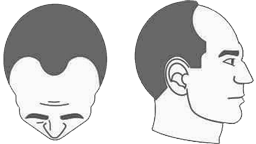 Norwood class 3
The earliest stage of male hair loss. It is characterized by a deepening temporal recession.