Procedure detail
2800 FUE grafts by Dr. Christina and HDC medical team in Cyprus.
53 year old patient who wanted to increase the density in the front triangle starting from hairline, final result includes the preservation of the donor area.
Bald class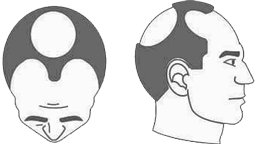 Norwood stage 5V
The two areas of hair loss are larger than in stage 4. They are still separated, but the band of hair between them is narrower and sparser. There is significant hair loss on the top of the scalp (the vertex).