Procedure detail
This patient underwent a follicular unit transplantation FUT session with Dr. Carlos K. Wesley @drcarloswesley in which a total of 2645 grafts were placed. The pattern design was conservative to account for the patient's relatively young age.
The patient's hair follicles were incubated in platelet rich plasma PRP throughout the duration of the procedure. This, combined with an ATP-containing storage solution has been shown to enhance survival of transplanted hairs.
As with all of Dr. Wesley's patients, he was NOT required to cut his hair for the procedure. As a result, this patient was able to return comfortably to work and social activities within approximately 7-10 days of his procedure.
The patient returned 12 months after his procedure and images of the patient can be seen below.
Bald class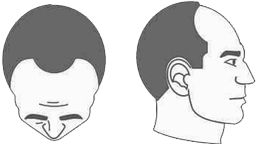 Norwood class 3A
The Norwood Class A patterns are characterized by a predominantly front to back progression of hair loss. These patterns lack the connecting bridge across the top of the scalp and generally have more limited hair loss in the crown, even when advanced.