Procedure detail
Patients are unique. Each has a different level of hair loss, a slightly different hair loss pattern, a different likelihood of future loss, different hair type, and a unique head shape. 
Therefore, each patient requires a unique transplant plan. Especially in the hairline region. There is no "one size fits all" approach, and what works great for one patient may not be the right approach for another. 
So I wanted to share an example of this type of in-depth planning: 
The patient is a gentleman in his 20s who was embarking on a new phase in his career. And, understandably so, he wanted to get his hair fixed before starting his new gig. He suffered from frontal (including hairline) and slight mid-scalp hair loss. He previously covered it up with a forward "comb over" and even dyed it blonde (on the advice of a hair stylist) to try and camouflage the loss (and you'll notice this in the "before" pictures).
I saw him for a consultation and we agreed that hair transplantation was likely his best option in this instance. But based on his age, head shape, views on preventive medications, hair type, and family history, I explained that he should seek a more conservative and feathered approach in the hairline. This would allow for a full but also soft and natural frontal transition, and also look natural if he thinned behind where we worked. We also made donor management a priority, and ensured he had plenty "left in the bank" for future procedures. 
I ended up doing a 2,200 grafts transplant. He returned a little over 11 months later, and the plan worked! 
Bald class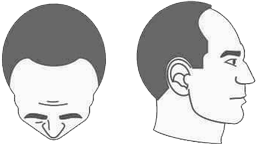 Norwood class 2A.
The class A variation of the Norwood scale is a slightly different and less common progression of hair loss. The main differences are that the hairline recedes back uniformly, without leaving an island of hair in the middle, and there is no bald area at the vertex. Instead, the hairline progresses directly from front to back.