Procedure detail
Dr. Feriduni @drferiduni FUE performed on a 54-year old Caucasian male with
• Isolated Vertex hair loss pattern
• Donor density of 76 FU/cm² occipital, 76 FU/cm² parietal, 68 FU/cm² temporal
• Hair diameter of ~48-54 microns
Treatment plan
Follicular Unit Extraction to reconstruct the crown area. 
Performed procedure
FUE (November 17, 2017)
Follicular Unit Extraction with 763 FU
* 763 tripple hair FU
Parallel incisions in custom-sized blades technique (Cutting Edge blades of 0.7-0.80 mm).
Extraction performed with a 0.8 mm FUE punch with CIT Manual Punch Handle. 
No microscopic preparation of the follicular unit grafts.

#drferiduni#hairtransplantcost#hairtransplantreviews#hairrestorationsurgeon
Bald class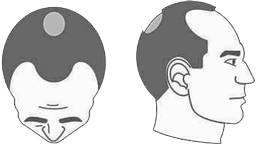 Norwood stage 3 Vertex
In terms of the receding hairline, stage 3 vertex balding is a less drastic version of stage 3.
However, people experiencing stage 3 vertex balding will also begin losing hair on the crown of their head. This often starts as one small bald spot.