Procedure detail
FUE performed on a 34-year old Caucasian male with
• NW III vertex Class N
• Donor density of 92 FU/cmÇ occipital, 88 FU/cmÇ parietal, 84 FU/cmÇ temporal
• Hair diameter of ~60-64 microns
Treatment plan
Follicular Unit Extraction to attain an aesthetic reconstruction of the hairline and rethicken the temporal peaks.
Performed procedure
FUE (March 20, 2018)
Follicular Unit Extraction with 2520 FU:
* 429 single hair FU
* 2091 double + triple hair FU
HGI: 2,32
Parallel incisions in custom-sized blades technique (Cutting Edge blades of 0.7-0.9 mm).
Extraction performed by WAW-system with a 0.85 mm serrated trumpet punch.
Bald class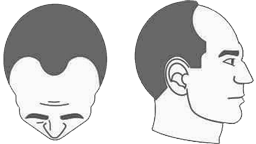 Norwood class 3
The earliest stage of male hair loss. It is characterized by a deepening temporal recession.