Procedure detail
This patient is in his early 40's with a fair degree of loss throughout.We knew from the outset that it would be a two-step process and possibly more.
His aim was for a level of coverage throughout but more concerned with the frontal aspect. He had his first procedure approximately 12 months ago and the second (crown) was performed four months ago. 
Initially he received 3360 follicular units and subsequently 2341 follicular units although his average hair per unit was lower than average at 1.9.
Bald class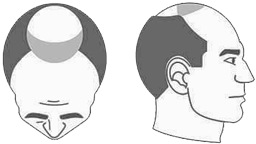 Norwood stage 5A
In stage 5A, the hairline continues to progress toward the back of the head.