Procedure detail
This patient came to us nearly 5 years ago and for the following 3 years used finasteride in a bid to stabilise his loss.
He then felt better placed to improve the front knowing that his plan to take things slowly had worked. Then and now he has no interest in improving the back with surgery.
He received 1760 grafts via FUT with an average of 2.2 hairs per graft.
Bald class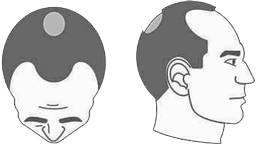 Norwood stage 3 Vertex
In terms of the receding hairline, stage 3 vertex balding is a less drastic version of stage 3.
However, people experiencing stage 3 vertex balding will also begin losing hair on the crown of their head. This often starts as one small bald spot.