Procedure detail
This patient has undergone two FUT procedures with Dr. Arocha.
1st procedure: approximately 2500 grafts
2nd procedure: approximately 1000 grafts
The after images were taken 1 year and 5 months after his very first procedure.
Bald class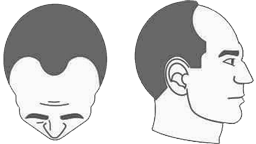 Norwood class 3
The earliest stage of male hair loss. It is characterized by a deepening temporal recession.