Procedure detail
he index patient was 33 years old.
His details are:
Total grafts planted: 5140Scalp:  3625Beard: 1515Donor quality: GoodHair caliber: GoodDonor side: Scalp, BeardRecipient side : hairline, front scalp to crown Result: After 12 months
Surgery led by Dr Arika Bansal
Bald class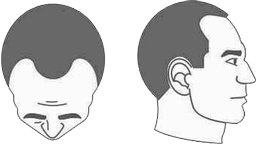 Norwood stage 2
There is a slight recession of the hairline around the temples. This is also known as an adult or mature hairline.