Procedure detail
The index patient had a big head. He was Grade VI bald on the Norwood Scale of Baldness. The patient wanted a natural hairline and therefore, we decided to concentrate on the frontal part of the patient's scalp. 
Total grafts: 4105 (Singles: 430)
Temple points: 300 each
His donor was average. His fronto - temporal angle and his temple pionts are corresponding to the sharpness of his nose. According to us the right kind of alignment of hairline, temple point corresponding to the nose, chin and mandible is required for a nearly natural look. 
He started to experience the growth spurt after 4 months and within 8 months he has extremely good results. He is planning for his second sitting on the crown. We have not exhausted his scalp donor and his beard donor is untouched. 
Bald class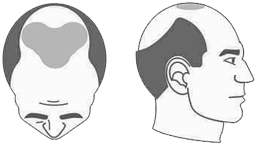 Norwood stage 6
The balding areas at the temples join with the balding area at the vertex. The band of hair across the top of the head is gone or sparse.