Procedure detail
Mr. HP is a 36 year old man who has been wearing a wig for 2 years. He decided to get the procedure done with us on the 12/March/2019.
His details are as follows:
1. Grade of baldness: 5
2. Number of grafts done: 3505
3. Donor quality: Good
4. Hair calibre: Good
5. Results presented after: after 12 months 
6. Hairline has been created -- 7 cm from the glabella.
7. Medications being taken: finasteride
Bald class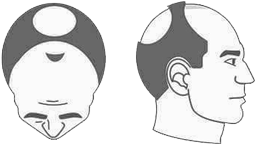 Norwood stage 5
Occurs when the connecting bridge of hair disappears leaving a single large bald area on the front and top of the scalp. The hair on the sides of the scalp remains relatively high.