Best Hair Transplant Doctors in Ontario based on patient reviews.
If you are looking for a hair transplant in Ontario, here is a list of the best doctors that are recommended by the world's largest patient community based on their proven history of excellent results and professional credentials.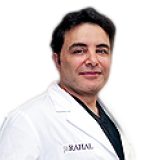 Elite Coalition Member
Dr. H. Rahal and his staff perform large one pass sessions of ultra refined follicular unit hair transplantation with outstanding results.
Rahal Hair Transplant
2081 Merivale Road Unit 1300 Ottawa Ontario K2G 1G9
1131A Leslie Street Toronto Ontario M4R 2H1