Best Hair Transplant Doctors in Netherlands based on patient reviews.
If you are looking for a hair transplant in Netherlands, here is a list of the best doctors that are recommended by the world's largest patient community based on their proven history of excellent results and professional credentials.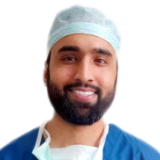 Hair transplant surgeon
Dr. Munib Ahmad in the Netherlands, performs every part of the hair transplant procedure to ensure his patients receive the highest quality. He is the first point of contact from the consultation to the aftercare. His results show aesthetic artistry with keen attention to detail.
FueGenix Hair Clinic
Bruinevisstraat 32, Unit 114 Bergen op Zoom, North Brabandt Netherlands 4611 HJ