About
I am 27. Hair loss has bothered me for a while and i wanted to do something about it. It was affecting my self confidence big time. I was in denial for sometime until i started noticing the hair loss in my pictures. I had to find a permanant solution to this. I did alot of research over the internet and read through user blogs on this website and decided to go with Dr True. My experience with Dr True has been nothing less than exceptional. I went through a intial round of consultation with Dr True ofcourse free of charge. We discussed and decided on the plan of action. I got my surgery done at the True and Dorin clinic in NY. The doctors and the the staff were extremly cordial and very professional. The surgery was practically painless and there were no post surgery complications. I remeber taking just one tylenol after the surgery that was it. I am looking forward on going back for my second HT with Dr True end of this year. I would totally recommend Dr True!! :)
My Surgical Treatments to Date
1441 follicular units
668 monos710 duos63   trios2277 Hairs2nd  Ht specs:
 
2606
follicular units
 
985
singles
1566
doubles
55
threes 
Bald Class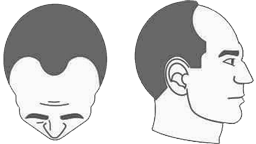 Norwood class 3
The earliest stage of male hair loss. It is characterized by a deepening temporal recession.
Yes I am . I am planning to go in for another transplant soon to keep up with my hair loss and add more density to the already transplanted area.
I would not advise any products. They have side effects with no permanat solutions. Hair transplant is the way to go. Just lead a healthy life style eat right and exercise in the mean time.