About
I really wasn't to concerned about my hairloss for many years.  Hairloss for me was a slow process that probably lasted 20 years or so.  As a I rounded 50 years, I began to see an older face in the mirror.  My hair, what I had, was flat or gone from areas that I used to comb back with a wave in the front.  This bothered me for a number of years until I finally decided to investigate Hair transplants after seeing some ads on TV.  I am not interested in applying topical treatments nor wearing a hairpiece.  The only thing left was to interview hair transplant clinics after viewing videos.  I was unimpressed with the first popular clinic that I went to.  I did not want to be sold something.  As it happened, after research and many hours on the web sites..I decided for a visit with Drs. True and Dorin in NYC.  Actually my first meeting was with John at a sub office in Poughkeepsie, NY  I was impressed with the technical help I received and proceeded to schedule an appointment last March 30th, 2005.  My first meeting with Dr True was when I came to the office the morning of my surgery.  I had full confidence by this time that I was in the right place to get this done.    
My Surgical Treatments to Date
To explain what happened on the day of surgery, I will begin when I arrived. I was made very comfortable while the full procedure was explained.  Within minutes, we were underway.  I could not believe how easy this was for me.  I watched 3 technicians cut follicles from 3 strips of scalp that had been removed by the doctors.   The donor area was quite good, having removed a strip of scalp about 1/2 inch to 5/8 of an inch wide and it was about nine or ten inches long.  This area provided 2605 follicles which produced approximately 7,800 hairs of 1, 2, 3, and 4 hair follicles.  Everything went smooth as Dr. True made minute incisions and Dr Dorin counted them so as to be prepared to receive just the right amount of follicle implants.   I was comfortable throughout the procedure and the Doctors completed their work in about 8 1/2 hours.  I followed the prescribed regimen of care precisely and had no bad experiences at all.  I mention this, because I had read a lot of postings that caused me to expect  the worse.  I read of severe hair loss post op, swelling, bleeding, and a host of other bad effects.  I really believe that these things can happen and do happen...but if you choose your doctor from amongst those who are meticulous in their procedure and you have a measure of good health, it seems like problems can be minimized, especially if you follow the post op directions that you are given. 
      I wore a ball cap for a few days and returned to the golf course on the fifth day.  I had been away from home the week of the operation..but when I returned no one even noticed that I had had the procedure.  The regrowth was so gradual that my mother didn't even notice.  I told her five months later when results were really starting to show.  She still didn't believe it.  Now that I am 11 months later, one friend finally asked me last week, " Have you been working out?"  Very few have seen the gradual change but many now are saying that something has changed that makes me look 10 years younger.  I keep some of them guessing!  I just received my pre op and post op photos from Dr. True's office and will post them as soon as I can.  Will I do some more?  I could be very satisfied with what I've got, but I still feel a little bit of " What if I did just a little more? 
My Non Surgical Treatments
As I said earlier, I don't like and have not used anything accept hair spray.
Bald Class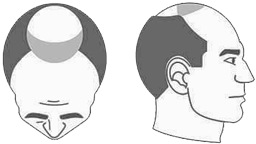 Norwood stage 5A
In stage 5A, the hairline continues to progress toward the back of the head.