About
Hair loss started on the crown at the age of 25. I am now 34. I am starting this blog because hairtransplantnetwork.com helped me deal with my problem. I want to contribute to this website and also to help other people with the same problem. Also to thank everyone at Farjo's for their patience and good work!
My Surgical Treatments to Date
2500 grafts by Dr. Farjo on 8 July 2009. 1800 on the crown and 700 on the front of the head. I feel very happy about the procedure. Everything looks and feels great!
My Non Surgical Treatments
I have been using Regaine 2% for 2 years and then shifted to Eucapil. I have been using Eucapil for more than 4 years. I think that both medications had a slowing effect
Bald Class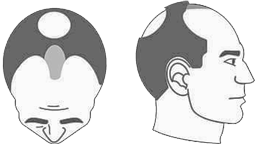 Norwood class 4
Characterized by further frontal hair loss and enlargement of vertex, but there is still a solid band of hair across the top (mid-scalp) separating front and vertex.
I felt very bad about losing my hair. 
I am very happy with my procedure. I still cannot see the effect because I just had it 6 days ago. But everything looks and feels very well.
I would recommend Dr. Farjo's clinic. I have very nice memories from Manchester and no pain at all.