About
I first became aware of the hairloss at the age of 23. The realisation was a massive blow to my confidence and happiness, especially as it was the last thing I expected. All my family had excellent hair coverage well into their 30s, 40s and 50s. For years even the local hair dresser commented on the impressive thickness and coverage of my hair. As far as I was concerned going bald couldn't happen to me. To make matters worse my girlfriend at the time had an issue with baldness which put even greater stress on the reality. I became obsessed with my thinning hair. In the first year after my discovery it totally dominated my taughts, I had to find a solution.   I researched every possibility to stop my hair loss, refusing to
accept that once my hair loss started, going bald was inevitable. I
poured large sums of money into minoxidil sprays, vitamin supplements,
and laser combs but too little success. I except certain people obtain
desirable results but not in my case. Once these treatments failed I
decided to turn to the last possible alternative, a hair transplant.
My Surgical Treatments to Date
One session with Dr Jean Devroye in Brussels, Belguim in July 20082792 Graphs6566 Hair
My Non Surgical Treatments
Started taking Provillus Dietary Supplements for hair loss for approximately
a year and a half
Took Minoxidil spray for 8 months
Bought a Sunetics laser comb and used it for 6 months
Ninian's Naturally Hair and scalp lotion for 6 months
And hair loss shampoo for 1 year
Bald Class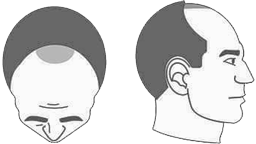 Norwood stage 4A
In stage 4A, a person will not experience a bald spot on the back of their head, but they will instead lose the dips in their hairline and have a deeper "U" shape when viewed from above.
It had a huge effect on me initially, at 23 I just didn't
expect it would happen to me. Shock soon turned to stress, completely
domination my every taught. The first year was easily the worst, gradually I accepted
my position. Although the internet is full of lies regarding miracle cures for
baldness. Each new product purchased gave me a window of hope that this was the
one that will grow my hair back, and although none re grew my hair they did
give me the time I needed to come to terms with my hair loss and the fact my
only hope was to have a hair transplant.
Referring to the non surgical procedures on the previous page I do feel some
of them had a positive effect, but none of the products ever completely stopped
my hair loss. If I had to choose one of the above to which I feel benefited me
most I'd have go with the Provillus Dietary Supplements, followed by minoxidil
spray
I'm very happy with my hair transplant experience especially
considering my consultation was provided completely on line. Due to the busy
constraints of my job and the fact I live in Ireland
and the clinic situated in Belgium
I was unable to visit the clinic in advance of the hair transplant. I know this
was a risky ploy, but through his outstanding website, and my countless emails
and telephone calls everything was perfectly arranged prior to the transplant.
Arriving at the clinic the day of the transplant I was made fell extremely
welcome by Dr DeVroye and his extremely professional team. I felt completely at
ease through the entire procedure. At no stage in the transplant did I feel I
was been rushed, even after such a long day. I feel Dr DeVroye takes huge pride
in his work and genuinely cares for his patients. Since the procedure Dr
DeVroye and his staff have sent on a number of emails asking how the transplant
was doing and sent on a few of the photos from the day of the surgery. Its been
three months since the procedure and the signs are very promising. As can be
seen by the attached photos.
I'd find it difficult to recommend a hair loss treatment
based on my experiences. My advice would be to have a hair mineral analysis to
establish how the bulbs of your remaining hairs are holding up. The mineral
analysis will also establish what vitamins and minerals the hair is lacking or
if there are excessive quantities of DHT. The results should give you a better
understanding of the route cause of your hair loss.
Although it is early days yet I'm feeling a lot more confident in my personal appearance and more at ease with the opposite sex
I can not stress enough how important it is to research the
hair transplant clinic you plan to have your procedure in. I initially selected
the nearest hair loss clinic to my house not knowing the massive differences in
standards between clinics, not to mention prices. It was through luck that I
came across my initially selected clinic on line and found pages of negative comments.
If I had never seen those comments I might easily have got a botched
transplant.