About
Hey there! My name theuntouchables, is due to the fact that I've just gotten out of hairtransplant with amazing dr Rahal, and my plan is that when my new hair grows out to wear 1920s slick back hair like they do in my favorite movie The Untouchables. So that's why I chose that name ;)
My story: 
So,
after years of sadness over the eternal fight with my hair to cover up my enourmous temples, I finally was lucky to find Dr. Rahal in Ottawa, and I went through surgery yesterday! I had done years of research online to find the best hair transplant surgent and as there's many out there it's kind of a jungle to find the right one, but I was lucky to find Dr. Rahal. With no bad reviews at all, and pictures of the most amazing results, he seemed like the absolute best so I went along and made the phonecall to his clinic, and before I knew it I had booked the date of the surgery and was planning on my way over to Ottawa, to do what I had been thinking of doing since I was in high-school. Get my temples covered by getting a hair-transplantation. And here I am in Ottawa, and I've just had my HT and it's freaking GREAT!
 
The surgery: I was really nervous before the surgery and I'm a bit of a whiner when it comes to needles and blood etc. so oh yes, was I nervous! But the worst part of the surgery was actually when they anaesthetized me, so basically just the needle-thing! But still even this was okay, and after that I kinda dozed off during the surgery which took all day. When they slice of the strip, it sounds like they cut in thick paper which was kinda funny :D
I came all the way from Scandinavia to do the procedure so I had not had a consultation before I got here,  so everything happened yesterday like the drawing of the new hairline etc. I got in at 6.30, and had a good breakfast before I went. Then we went over paperwork etc. and the surgery itself started at about 9 a clock. The surgery was finished at 4.30, where I was then given the post op details one more time. 
Pain: it feels extremely tight in the back of my head, but I was expecting worse pain. I did not gamble and I have taken the painkillers for severe pain (you get a box with painkillers for severe pain and one for mild pain), as I do not want to risk suddenly feeling like I had my head cut open, which is basically exactly what I just did lol. So the painkillers REALLY help. I seriously slept in my reclining chair at the 45 degree angle for almost 12 hours! Which is really rare, so I must have reacted very well to the painkillers plus my head has been taken well care of at Rahals clinic. 
I went to have the recipent area cleaned today by a sweet nurse. Seriously everybody is so sweet at Rahals clinic. Very curteous and smiing. I really like that, as I myself am quite shy and can feel a bit socially awquard sometimes, but at Rahals clinic the staff is so nice that I actually do not feel like the big elephant in the room as I do quite often back home. Rahal himself also came in to check how things were and look at the grafts post surgery and that was a really nice feeling to be that welcomed and well taken care off and that there's such good care after ones surgery. Made me feel very safe and happy. Also this is one of the things I read on the forums online about Dr. Rahal. That he does extreme good after-care, and that meant alot to me as well as this was a huge decision for me so I needed to be sure that I would be well taken careoff also after the surgery. 
The hairtransplant:
All I can say is: WOW!!! It looks freaking GREAT! I can't say how happy I am about the result. I mean I just had it done yesterday but you can see the new place and I can just SEE it happening when it starts to grow out and since I'm going for the 20s slick back hair the hairline needs to be in place. I had my temples done and they were baaaad. I had what I think is called a widows peak but it went way back on my head and my temples only got worse. 
Feeling tired now and a little tight in the back now so I'm going to go to sleep in the reclining chair now. I have to wait 2 hours before I can take the painkillers again. so will sleep for those hours. 
Will keep you postet with pictures too. I'm at the Brookline guesthouse now, which is like 5 minute walk from the clinic. So convenient, and as I said they clean you everyday at Rahals clinic and check on you etc. Very good service that they really do alot of post-op care. I can't say how happy I am about it all. I'm just HAPPY! This is awesome! Can't wait for it to start growing. It's going to be a complete life change for me!  
off to sleep now. 
So, sleeping helped on the sudden arise of pain and I'm good again. The swelling has begun now and I kinda look like a blown op glove or something. But the hairtransplantation still looks freaking awesome. Can't believe it! :D the swelling I've been told is going to last some days, and I'm going to take one pill every night for the swelling that you get at the clinic with the other medications for post surgery, like anti-biotics, painkillers etc. 
will continue my writings in my blog, plus will also make a blog on the hairrestorationnetwork.com which I just found. I'm going to post photos etc. from hereoff and untill I'm enjoying the new regrown hair, which I'm seriously looking forward to as was I a kid going to Disneyland with Walt Disney himself or something (yes that was actually a big childhood dream of mine :D)
My Surgical Treatments to Date
1 Hair Transplant at Dr. Rahal in Ottawa. on October 9th 2013. Just yesterday.  3700 grafts. 
My Non Surgical Treatments
Bald Class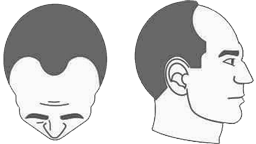 Norwood class 3
The earliest stage of male hair loss. It is characterized by a deepening temporal recession.