About
I first noticed that I was thinning at the age of 21 and let me tell you it freaked me out. I was wondering what I did wrong to merit such a curse at such a young age. Luckily it was a slow process which allowed me to get used to it, however, getting used to is never meant accepting it. I was always self conscious. I was still able to create a half believable comb over until now. At 45 years old I could not longer cover it up. I decided now is the time to take the plunge. Luckily, so much progress has been made on hair restoration since I first noticed I was thinning. Thanks to the hard work of pioneers like Dr. Hasson I went ahead and did it.
My Surgical Treatments to Date
March 22, 2011. 6309 grafts.
Bald Class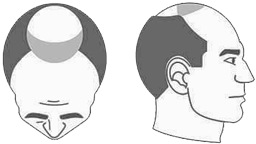 Norwood stage 5A
In stage 5A, the hairline continues to progress toward the back of the head.
Always self conscience of my hair loss. I always wore a baseball cap to cover it up and rarely felt comfortable not wearing it. I lacked confidence and often didn't want to go out if I couldn't hide my hair loss.
I tried Rogaine but it didn't work very well and ended up getting a rash, I ended up not using it anymore. The only option was a hair transplant.
So far I am happy with what I am seeing. I was told that its not before the 8-12 month mark that I will see the final results. If things continue to progress I think I will be happy with the final result. Here's hoping!
Lateral Slit Technique, Hasson and Wong in Vancouver, BC, Canada.
It's strange how even a little hair makes me feel different about myself. I know I have a long way to go yet but I have a hairline now, which I haven't had in quite some time. So, feeling better no doubt about it, time will tell how much better I will feel.
I can't speak for any other HT surgeons out there in terms of how good they are. I can only speak from my experience and research but I say you just can't go wrong with Hasson and Wong. Dr. Hasson has a great reputation and is really one of the top HT surgeons out there. I tried my best to find bad reviews and could not find any viable complaints. So, if you are considering a HT definitely look into Hasson and Wong, http://www.hassonandwong.com.