About
Losing hair since mid twenties.
My Surgical Treatments to Date
Went to Bosly at age 27 ( what a mistake)
Went to Peterson at age 29 ( another mistake)
Went to Dr Siporin at age 45 1600 + grafts
Went to Dr. Mohebi at age 52, 1915 grafts
My Non Surgical Treatments
Started Propecia Dec 2007, 1 week before HT. Never used any meds in the past until now.
Bald Class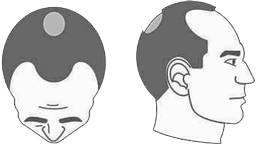 Norwood stage 3 Vertex
In terms of the receding hairline, stage 3 vertex balding is a less drastic version of stage 3.
However, people experiencing stage 3 vertex balding will also begin losing hair on the crown of their head. This often starts as one small bald spot.