About
My hairloss story is by no means unique....or maybe it is! I started to lose my hair when I was 15 years of age. My crown started to grow thin and by the time I was 17, my temples had clearly receeded....so msuch so that even my friends parents pointed out! Not nice!
I started to use regain when I was 23 (it was only out on the market here for a year at that stage). There was no noticble results after 1 year. I then visited a hair loss clinic and started on the road to a full head of hair (or so I thought.....see below!).
My Surgical Treatments to Date
I underwent 3 strip procedures in the Ireland in 2001/2002 and out of the 1,800 grafts implanted, less than 10% grew. You can see my post op pictures....these are post the 2009 operations. The lack of growth was due in large to the poor after care advice I got in the Irish clinic (the consultant told me to scratch the scabs off after a few days....of course hair and all came out.....its almost funny looking back!!).
I went on Finesteride/Propecia after that for a year and a half......again no noticible results. I had about 1,000 (1,600 hairs) FUE grafts implanted in my front hairline (Ailsbury Clinic, Ireland) in June 2009 using FUE. The doctor told me however that the surgery had depleted my donor site completely. I then turned to the hope that is BHT.
After various e-mails and telephone covnersations and a hell of a lot of online research, I booked a 3 day session with Dr True in New York. The expectaion was to get approximately 3,000 grafts using a combination of both traditional donor hair and BHT. I found Dr True (and Dr Dorin) good to deal with. They were much more tuned in that any of the previous surgeons and I felt a lot more comfortable with them. While the experience was pleasent, we only managed to achieve circa 2,700 grafts. To be honest, I thought that they did their best with what they had (my body hair was not entirely suitable due to a previous course of laser hair removal, although my beard hair was). On the other hand, I thought they could have taken more BHT from the beard area. In hindsight, I think the balance was correct.
My Non Surgical Treatments
Propecia & Regain & Lazer Comb
Bald Class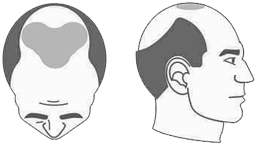 Norwood stage 6
The balding areas at the temples join with the balding area at the vertex. The band of hair across the top of the head is gone or sparse.
FUE or Strip...although there have been some good results with Finersteride/Propecia