About
Devastating during my early 20's. A fate that seemed worse than death at the time as far as the social scene was concerned. Researched lots of regional clinics and docs at the time but there was no Internet and the technology in the HT business 20 years ago certainly isn't what it is today. As a result, my first 3 procedures where with a typical "hair mill" that left me with less than optimal growth, pitting, cobblestoning and significant scaring in the donor area. It wasn't until the third procedure that I really started to take notice since at the time I still had a lot of native hair due to my age. As I started losing more of it, the poor quality became evident and I knew I had to fnd a better surgeon. The last two procedures at Cleveland Hair Clinic were not good. Who knows how musch hair evenactually grew from those procedures - half if I was lucky.
I had a couple procedures with Dr. Gallagher out of Center City Philly who had a very good reputation as a Top Doc for this area. The results were a definite improvement and he revised my scars soem as well. Still, I knew i could do better.
About 6 years ago I discovered this website, which lead me to Dr. Katz who was local and had very decent reviews at the time. He has since retired. I was very satisfied with my results from him and just under went a small FUE procedure with Dr. True in NY. Because of my very limited donor size at this point, we had to just focus on hairline and temples. I would like to use him again for some additional scar revsions work down the line and maybe a small FUE procedure (donor hair permitting).
  
My Surgical Treatments to Date
Dec. 1993 - 140 grafts plus 40 singles with Dr. Tsai of Cleveland Hair Clinic
May 1995 - 250 grafts with Dr. McVaughn of Cleavland Hair Clinic
Dec. 1996 - 350 grafts with Dr. McVaughn of Cleveland Hair Clinic
Dec. 1998 - 600 grafts with Dr. Gallagher
Dec. 2002 - 600 grafts with Dr. Gallagher
May 2008 - 1500 grafts (300 singles, 500 1 & 2's, 700 2 & 3's) with Dr. Katz 
Nov. 15, 2012 - 580 FUE grafts with Dr. True (mainly 1 & 2's) along hairline and temples only
My Non Surgical Treatments
Propecia every other day
Bald Class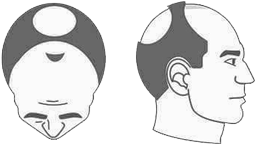 Norwood stage 5
Occurs when the connecting bridge of hair disappears leaving a single large bald area on the front and top of the scalp. The hair on the sides of the scalp remains relatively high.
Devastating during my 20's. A fate that seemed worse than death at the time. I had a very youthful appearance and felt my hair loss was just making me look older than I was comfortable with. I brushed hair forward and wore a hat backwards for about 8 years as a cover-up. This worked well for me in the social scene unless of course I had to remove my hat (which I hated). Not as big of a deal in now that I'm in my 30's. I don't mind a thinning look, as long as it is natural and I'm not completely bald.  
My last 3 hair transplants (from 1998-2008).
Just had FUE in Nov 2012
Propecia
Two of my first 3 small sessions with Cleveland Hair Clinic were horrible.
Two sessions with Dr, Gallagher were a big improvement.
Had one session with Dr. Katz in May 2008, which I feel turned out to be the most natural. Still need a little more density in some spots up front and back towards crown but donor area is very limited at this point.
Hoping that the small FUE I recently had will continue to add a natural look to y existing hairline and re-build temples.
A hair transplant with a top doctor.
Regained my self-confidence over the years and don't spend so much time thinking about my appearance as it relates to my hair. It used to be all consuming when I was younger.
A natural thinning look doesn't bother me at 40 yrs old. and I can style my hair back to cover up the crown which is mostly bald. There's not enough donor hair to address that entire area.   
Research, research, research. It's not the old days of pre-Internet. There is no excuse not to find a top doctor these days. Don't rush since the results (good or bad) are permanent. Cheap is expensive in the end, so wait until you have the money saved to see on of the top quality docs listed on the HT Network site.