About
Hair loss started at the age of 22. No family history of hairloss. Wanted to stay ahead of hairloss, so opted for a hairtransplant surgery.
My Surgical Treatments to Date
No of sessions - 1
Grafts - 1890Grafts Count:           1's     -       649 Grafts
                                2's     -       913 Grafts
                                3's     -       328 Grafts
My Non Surgical Treatments
1. Rogaine
2. Propecia
3. Ayurvedic hair oils
Bald Class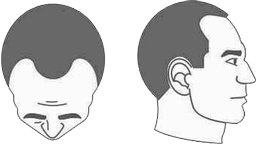 Norwood stage 2
There is a slight recession of the hairline around the temples. This is also known as an adult or mature hairline.
Rogaine and Ayurvedic hair oils
Hair transplant was very smooth. Dr Charles was very patient and answered all my questions and made sure I was very comfortable. The staff were very pleasant and provided every form of assistance. The whole procedure took 5 hrs including lunch break. The procedure was performed under local anasthesia and there was hardly any pain. When the anasthetic is being injected a slight sting is felt, but apart from that there is no pain. I watched television the whole time the procedure was being performed. 
I will comment on my results as I keep updating my pictures. 
With my over all hair transplant procedure experience, I shall definitely recommed Dr Glenn Charles as your choice of doctor. 
If you have progressive hairloss, hair transplant is definitely the treatment one can consider. Do your research in terms of the doctor you choose. Hairtransplantnetwork is a great place to start and is huge source of information. I would like to thank the editors, contributors and founders of the website for providing this forum and helping out many hairloss affected souls like me.